Joyful Pumpkins Farm
Happy Animals. Wholesome Food. Healthy Land.
Looking to start or tune-up your long-ears with natural horsemanship methods?
Understanding and yielding to pressure

Saddling and mounting

Confidence on trails

Water and bridge crossing

Development and balance at all gaits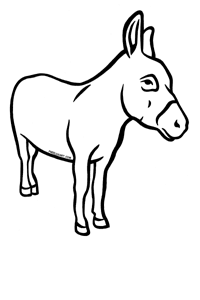 Packing
Lots of practice getting out on the trails!

Learning to balance under a load

Partner with and learn from an experienced burro

Water and bridge crossing

Obstacles and rough terrain
About Amy
​I've owned and competed with equines for over twenty years, and have a big passion for taking them out on Montana trails. Though I grew up practicing eventing, I now use a variety of natural horsemanship methods with both Western and English disciplines.
I generally bring on only one or two equines at a time to ensure they receive the best possible care. They are housed with my donkey in an 8000sf dry lot with loafing shed and open access to pasture.
*Records of regular worming and vaccination required
Adoption
Interested in giving a home to a once-wild burro?
Contact Amy about arranging to adopt a trained BLM donkey through the Trainer Incentive Program.
Wild burros need your help! Learn more about the program here, and about wild burros here.
Trailer loading and confident traveling

Picking up feet for picking and trims

Confidence building - tarps, balls, bags, obstacles

Water and bridge crossing

Positive exposure to dogs and other livestock
​